Hemet Air Conditioning Repair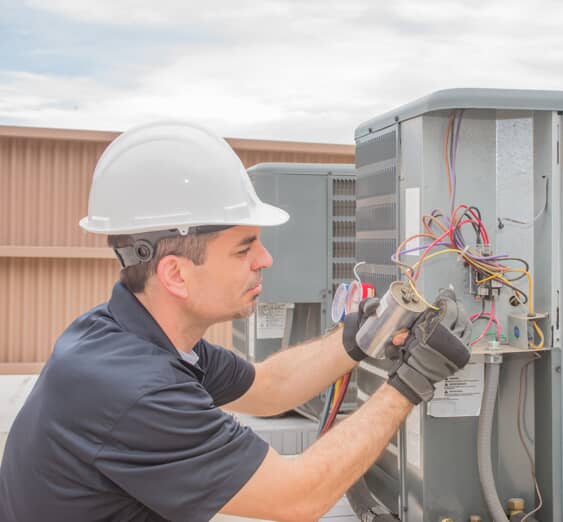 No one enjoys dealing with the sizzling heat when the air conditioning system stops working. It always seems that it can happen when the temperatures are extremely uncomfortable. The interior of a home can become unbearable when the mercury rises during the summer. When your air conditioning unit is failing, you need a trusted AC repair company to restore the comfort of your home.
OnTime Home Services is the company to contact when the central air conditioning unit is on the brink. We can handle yearly air conditioning maintenance for homeowners and businesses in our area. Need a new air conditioning installation? We can take care of that for anyone that wants a high-efficiency system. We are the company to take care of air conditioning repair in Hemet, CA.
Call our experienced AC repair technicians to schedule a service appointment at your home or business - (949) 649-8777.
Signs Your AC Unit Needs Repair
Central air conditioners give away many signs that something is wrong. The first thing people notice is the unit doesn't cool the house as it use to. A yearly maintenance check is important to make sure refrigerant is at normal levels in the system. This is probably the reason it stopped cooling. A service appointment will need to be scheduled for us to diagnose the problem.
Other signs of an air conditioning unit in disrepair could be:
A refrigerant leak can cause the system coil to freeze up with ice.
Filthy air filters that have never been replaced.
A broken fan or motor that won't blow out the cool air into the home.
High utility bills caused by air conditioning systems that need servicing.
An air conditioning unit that makes a lot of noise when turned on.
Never continue to operate a system when noises are from the unit. It means parts need to be replaced or repaired and could cause more issues with the system if it continues to run.
How Long is an AC Unit Supposed to Last?
Air conditioning systems can last up to a maximum of 20 years if those systems get proper yearly maintenance performed. We might have to do air conditioning replacement for a system that has worn out. We can determine what size of AC unit is needed to replace the current system for homeowners and businesses alike.
Contact OnTime Home Services for Air Conditioning Repair Hemet CA
OnTime Home Services can solve any air conditioning issues that arise for homeowners in the Hemet area. We can do any AC repair people require, keeping their cooling system operating as if it were new. We are the authority with air conditioning problems.
OnTime Home Services also provides:
Don't put off scheduling a service appointment today. The air conditioning system inside the house is one of the most important appliances when the weather turns hot. Call us today to keep the unit operating throughout the summer.
Our Customers Are Our Top Priority
See What They Have to Say About Us
He Takes Pride in His Work - Melissa C.

Happy and Satisfied - Suzy P.

I Could Not Be Happier With the Service - Andrew B.

They Fix It Right Away - Jenny J.

Very High-Quality Business - LN